Operational insights help Falcon Group tap into newly found capacity rather than purchase additional CNC machines
ABU DHABI, UAE, Jan. 23, 2023 /PRNewswire/ — Rockwell Automation, Inc. (NYSE: ROK), the world's largest company dedicated to industrial automation and digital transformation, today announced that it has helped Falcon Group to boost its machine utilization by 162.5% using the ThingWorx IIoT platform, part of the FactoryTalk® InnovationSuite, powered by PTC.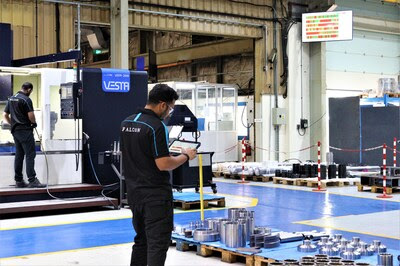 Headquartered in Dubai, Falcon Group comprises five industrial operations. One of these is a specialist precision engineering and fabrication company that caters for the demanding needs of customers in the aerospace, automotive, marine, healthcare, defense, oil & gas, and steel industries. At the heart of its operations are 16 CNC machines, all of which are essential to the company's machining capabilities.
Before support from Rockwell Automation, Falcon Group was considering purchasing additional CNC machinery to keep pace with customer demand and to support maintenance downtime for critical machines. When at peak capacity, to meet order dates, the company had subcontracted work to competitors. But before signing off on additional machinery, the company decided to assess its current asset utilization.
Prabhu Badrinathen, CEO at Falcon Group said: "We are always looking for ways to do things better and deliver even greater levels of service to our customers. We knew we had room to grow our machine utilization, but it was not until we got the real-time, machine-level insights from the ThingWorx platform that we realized where inefficiencies were and where the changes needed to be made.
"We have grown our utilization from 16% to 42% and have set an ambitious future target of 75% – a growth of more than 365%," Badrinathen said. "ThingWorx has this incredible capability to bring operational data together in such a way that it offers immediate value in the form of actionable intelligence."
According to Mohamed Elnakib, head of information solutions sales, Middle East, Turkey and Africa for Rockwell Automation: "Falcon Group's CEO is very digital savvy and understood that digital transformation could deliver huge benefits to his people, his assets, and his processes. Using ThingWorx, part of FactoryTalk® InnovationSuite, connected to PLCs and sensors throughout the plant, we were able to ascertain that machine utilization was sitting at only 16%."
Rejin Jose Kurian, managing director at Falcon Group, said the increase in machine utilization – and the new business opportunities created – demonstrates the company's commitment to continuous improvement and innovation.
"We were always a very successful company, but we also knew we could do more," Kurian said. "We challenged the team to think about what was possible and how we can grow the business."
Sebastien Grau, regional vice president, Middle East, Turkey, Africa, Rockwell Automation, said: "Falcon management perfectly embraces the potential of industrial software and the benefits they have seen are a great example of a successful digital transformation.
"With a pragmatic step-by-step approach, Falcon delivers tremendous process and cost improvements but even more, Falcon is opening new doors for additional business by becoming a Rockwell Automation software system integrator and sharing their expertise and knowledge."
Discover how digital transformation brings greater innovation and productivity and can address any business need when data is managed well. As part of your digital evolution, ThingWorx could revolutionize your operations too.
About Rockwell Automation
Rockwell Automation, Inc. (NYSE: ROK), is a global leader in industrial automation and digital transformation. We connect the imaginations of people with the potential of technology to expand what is humanly possible, making the world more productive and more sustainable. Headquartered in Milwaukee, Wisconsin, Rockwell Automation employs approximately 26,000 problem solvers dedicated to our customers in more than 100 countries. To learn more about how we are bringing the Connected Enterprise to life across industrial enterprises, visit www.rockwellautomation.com.
About Falcon Group
With over 30 years of experience, we offer best-in-class precision engineering, fabrication & machining services that stand for unmatched superior quality. With an array of customers spread across verticals like automobile, aerospace, hospitality, entertainment etc., we have gained position as the region's "go-to" company for high-complex precision engineering works. Working towards the sole aim of customer satisfaction, we better ourselves every day through continuous improvements designed to increase quality, delivery & exceed customer expectations. Flexibility, customer support and teamwork underpin everything we do.

Photo – https://mma.prnewswire.com/media/1984785/Falcon_IMG_6502.jpg
Logo – https://mma.prnewswire.com/media/1981317/Rockwell_Automation_Logo.jpg