SHENZHEN, China, Feb. 15, 2023 /PRNewswire/ — Mindray (SZSE: 300760), one of the world's leading developers and providers of advanced medical devices and solutions, recently launched its first wireless handheld ultrasound system, the TE Air.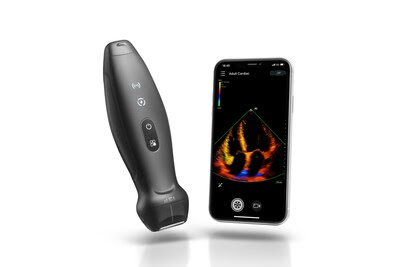 "Built from Mindray's leading technologies, the TE Air has made a historic breakthrough in the image quality level of handheld ultrasound, integrating professional-level image quality into a small and light wireless system. Its premium performance and wireless portability allow clinicians to diagnose anytime and anywhere with confidence," said Xujin He, General Manager of the Medical Imaging System Business Unit at Mindray.
Designed specifically to meet the demand of global healthcare professionals for a higher-quality portable ultrasound device that is easy to use in multiple medical environments and delivers crisp point-of-care ultrasound (POCUS) imaging, the TE Air revolutionizes the way of using ultrasound by transforming a complicated ultrasound system into a small size device, while retaining its ability to meet higher clinical requirements.
Powered by Mindray's eWave platform and 2nd generation Single Crystal technology, the TE Air delivers high-quality images with low power consumption for ultimate performance. Meanwhile, with the features of dedicated exam presets and comprehensive imaging modes, the TE Air allows clinicians to conduct ultrasound examinations more efficiently and offers more accurate decision-making assistance.
The TE Air's wire-free design and compact size that easily fits in a pocket, high-level disinfection tolerance, and flexible charging for extreme mobility, empower clinicians to overcome the challenges brought by unexpected mobile clinical scenarios. The unique Air Capsule doubles as a protective case and a portable wireless charger that keeps the device running all day, taking only 35 minutes to fast charge the device. With an IP68-level waterproof and dustproof design, the device is fully immersible for high-level disinfection, suitable for hospital infection control.
The TE Air App, available for Android and iOS, perfectly balances simplicity and efficiency by allowing one-handed operation in any location. The TE Air can connect with advanced devices such as the Mindray TEX20 Ultrasound System, enabling providers to overcome the limitations of cords and tight spaces while offering premium functionality. It can also seamlessly integrate with hospital information systems to help improve workflow. Furthermore, the de-identified data collected can be saved and shared to meet the needs of teaching, training, consultation, and case sharing.